3/26 Holy Saturday – Volume 2; March 31, 1899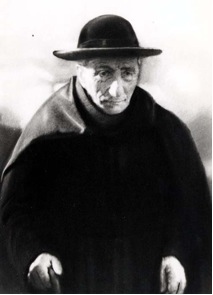 St. Annibale Di Francia
One of last pictures before his death on June 1, 1927
Book of Heaven
Volume 2; March 31, 1899 
The value of sufferings.
This morning, my adorable Jesus made Himself seen crucified, and after He communicated His pains to me (Luisa), He told me: "Many are the wounds that made Me suffer during my Passion, but one was the cross. This means that many are the roads through which I draw souls to perfection, but one is the Heaven in which these souls must unite. So, if one misses that Heaven, there is no other which can make them blessed forever."
Then He added: "Take a look: one is the cross, but this cross was formed with various pieces of wood. This means that one is Heaven, but this Heaven contains various places, more or less glorious; and these places will be distributed according to the sufferings suffered down here, more or less heavy. Oh, if all knew the preciousness of suffering, they would compete with one another to suffer more! But this science is not recognized by the world, and so they abhor all that can make them richer for eternity."
FIAT!