Our Lady of Guadalupe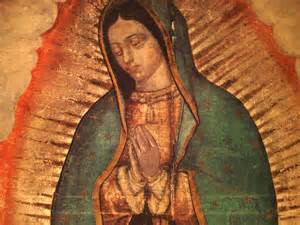 The Feast of Our Lady of Guadalupe
December 12, 2018
"I am the merciful Mother of all mankind.  Am I not your hope?"
Our Lady of Guadalupe to St. Juan Diego
In contrast to the Culture of Death with its loss of life and hope, St. John Paul II called Our Lady of Guadalupe the Mother of Hope and the Mother and Evangelizer of America.
 He went on to say, "Now is the time of the New Evangelization to lead the People of God in America to cross the threshold of the third millennium with renewed hope." Our culture is in darkness, but we know that God's grace and light pierce the darkness of sin to bring life and hope through the intercession of Our Lady of Guadalupe.
 As we celebrate the end of our 27th anniversary of Visitations of the Missionary Image of Our Lady of Guadalupe, we continue to see that Our Lady of Guadalupe brings us hope!
Am I Not Your Hope?
Our Lady of Guadalupe said to St. Juan Diego, "Am I not your hope?" Mary is the Mother of Hope. She is the Mother of Jesus Christ who is our hope and brings life as the conqueror of despair and death. Through her, we should have the confident expectation of divine blessings such as the closing of abortion centers, conversions, healings and the manifestations of heartbeats in the Image and Holy Glitter on it. That is hope!