In honor of the July 13 Apparition of Our Lady of Fatima to the children:
"Convert us, O Lord, to Thee, and we shall be converted:
Renew our days, as from the Beginning." Lam 5:21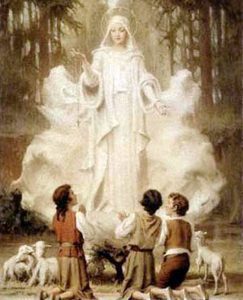 V4 – 10.31.00 – The Celestial Mother helps Luisa to Disarm Justice. The most salutary and efficacious medicine in the saddest encounters of life is resignation – As I was in my usual state, I felt myself outside of myself and I found the Queen Mama. As She saw me, She began to Speak about Justice, and how It is about to Clash with All Its Fury against the people. She said many things about this, but I don't have the words to express them. In the meantime I could see the Whole of Heaven Filled with Points of Swords against the world. Then She added: "My daughter, you have Disarmed Divine Justice many times, contenting yourself with receiving Its Blows upon yourself. Now that you see It at the Summit of Its Fury, do not lose heart, but Be Courageous; with heart full of Holy Fortitude, Enter into this Justice and Disarm It. Do not be afraid of the Swords, of the Fire, or of anything you may encounter; in order to obtain the Intent, if you see yourself wounded, beaten, burned, rejected, do not draw back, but rather, let this be a Spur for you to move on. See, so that you may do this, I Myself have Come to your help by Bringing you a Garment; as your soul wears it, you will acquire Courage and Fortitude so as to fear nothing." Having said this, from within Her Mantle She Pulled Out a Garment Woven with Gold, Streaked with Various Colors, and She Clothed my soul. Then She Gave me Her Son, telling me: "And now, as a Pledge of My Love, I Place My Dearest Son in your custody, that you may Keep Him, Love Him and Content Him in Everything. Try to Act in My Stead, so that, as He Finds All His Contentment in you, the discontent that All the others give Him may not cause Him too much Pain."
V4 – 3.22.01 – She sees Rome and great sins. Jesus wants to Chastise, but Luisa is opposed – As I continued in my usual state of privation, and therefore of unspeakable bitternesses, this morning, my Adorable Jesus Came and Transported me outside of myself. It seemed to me that it was Rome. How many spectacles one could see from all classes of people! Even in the Vatican one could see things that were repugnant. What to say, then, about the enemies of the Church? How consumed with rage they are against Her, how many slaughters they are plotting – but they cannot carry them out because Our Lord Holds them Bound still. But that which frightened me the most was to see my Loving Jesus almost in the Act of Giving them freedom. Who can say how consternated I remained? Then, seeing my consternation, Jesus told me: "Daughter, the Chastisements are Absolutely Necessary. Rot and gangrene have entered all classes, therefore Fire and Sword are Necessary so that Not Everyone may perish. So, this is the last time I tell you to Conform to My Will, and I Promise you to Spare in part."
V5 – 5.20.03 – Luisa offers her life for the Church and for the Triumph of the Truth – As I was in my usual state, I found myself outside of myself with Blessed Jesus in my arms, in the Midst of many people who, with irons, swords and knives, were trying, some to beat, some to wound, some to cut off the members of Our Lord. But as much as they did and tried, they could cause no harm. On the contrary, their very irons, as sharp and cutting as they were, lost all their activity, and became inoperative. Jesus and I were Highly Afflicted at seeing the brutality of those inhuman hearts which, though they saw that they could do nothing, would yet repeat the blows in order to succeed in their intent; and if they caused no harm, it was because they were unable to. They became angry because their weapons had become useless and they were unable to carry out their resolute will to do harm to Our Lord; and they said to themselves: "Why are we unable to do anything? What is the cause? It seems that other times we were able to do something, but as we find ourselves in the arms of this One here, we can do nothing. Let us try and see whether we can do harm to her, and get her out of the way." While they were saying this, Jesus Withdrew to my side and Gave them freedom to do what they wanted. But before they laid hands on me, I said: "Lord, I offer my life for the Church and for the Triumph of the Truth – accept, I pray You, my sacrifice.' Then they took a sword and cut my head off. Blessed Jesus Accepted my sacrifice, but while they were doing this, in the act of making the sacrifice, to my highest sorrow I found myself inside myself. I thought I had reached the Place of my desires, but I remained disappointed.
V12 – 12.30.1917 – I was frightened, and I said: 'Placate Yourself, O Jesus! Look at us as the Fruit of Your Blood, of Your Wounds, and change the Scourges into Graces!' And He added: "Things will go Forward. I will Humiliate man to the dust, and various sudden and unexpected accidents will continue to Occur, to Confuse man even More. Wherever he believes to find escape, he will find a tie; where a victory, a defeat; where light, darkness; so that he himself will say: 'I am blind, and I don't know what else to do.' The Destructive Sword will Continue to Devastate, until Everything is Purified."
FIAT!