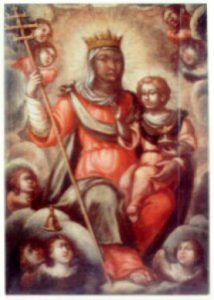 Miraculous image of "Santa Maria Greca"  that appeared on July 18, 1656 in Corato, Italy.  Archbishop Mons. Addazi obtained permission from the Holy Office on May 11, 1962 to transfer the mortal remains of Luisa to the Church of Santa Maria Greca with the internment occurring on July 3, 1962.

In the night of 18th July 1830, 1st Appearance of the Virgin Mary, Catherine was woken up by a child ringed in a halo of light. She followed him into the church which was open and lit by countless candles. The child asked her to kneel next to the altar where the Virgin Mary was waiting for her with a message, a mixture of political and religious predictions.
In this message, she namely predicted the July 1830 revolution in France, the bloody political events of 1870, the death of Archbishop Darboy in 1871 and the ensuing political chaos. The Virgin Mary also announced the formation of 2 religious communities abroad, one in the United States (founded by Elisabeth-Ann Seton) and one in Austria, founded by Léopoldine de Brandis.  
FIAT!